Ninh Binh is surrounded by a stunning landscape of lush green paddy fields and striking limestone outcrops with main tourist sites including Tam Coc, Trang An, Bich Dong, Bai Dinh Pagoda – The biggest Pagoda in Vietnam, Van Long Nature Reserve and Cuc Phuong National Park, Hoa Lu Ancient Capital – Oldest Capital of Vietnam, Phat Diem Stone Cathedral, Thung Nham Bird Garden, etc.
What is the time to visit Ninh Binh?
Visitors can travel to Ninh Binh province in every season of the year; however, the most ideal time is from January to March according to the lunar calendar.
In spring – the best time to visit pagodas: This is a really good time to go is from January to March – Lunar Year. The weather is not too cold or too hot, so travelers can combine traveling, going on a pilgrimage, and going to temples, and pagodas to pray for luck and happiness. Every year on the occasion of Lunar New Year, Ninh Binh attracts thousands of tourists to come and travel, especially traveling to Tam Coc. Among the tourists coming, lots of them are foreign people.
In the summer, it is very hot and you have to be out of the doors all day so you should bring a hat and sunscreen. Especially for boat trips, you should bring a thin coat which will also protect against sunlight.
In winter, it can be cold and rainy during the day so you should prepare a hat and a jacket. If you plan to climb Mua Cave, the weather may be cold on the top of the mountain. It will be better for you with a thin coat and climbing shoes.
Apart from this, at the end of May and June, it is the occasion for ripe rice on the fields in Tam Coc. Besides, Trang An is a good place for travelers to take photographs as well.
How to get from Hanoi to Ninh Binh ?
Ninh Binh is around 100 kilometers to the South of Hanoi city, visitors can go there by different means like: by train, buses, private cars or even motorbikes.
By Bus
In case you travel to Ninh Binh by coach, there are dozens of trips for every single day, departing from 5:00 am to 6:00 pm, provided by coach owners. Some good brand names are Cuong Hung, Cat Loi, Vu Thuong, Gia Minh, Hien Tinh, etc…
It takes around 2 hours to travel to Ninh Binh, and the price of a ticket is around 80.000 -100.000VND/a person.
You can book a Ninh Binh Tour from Elena Travel Agency that includes transportation, you don't need to worry about how to go anymore. Take a look at our Ninh Binh Tours to the most popular destinations in Ninh Binh.
By train: It takes 2.5 hours to get here and the train stops at the station at Ninh Binh City Center. About $3.5 USD is needed to pay for a one-way ticket from Hanoi Train Station to Ninh Binh train station.
By Private Car or Motorbike: If you visit Ninh Binh by your own means, for instance, by motorbike or by Private Car, you can follow Gia Phong street, go through Giap Bat Station, turn into Phap Van-Cau Gie highway, continue following Phu Ly direction, then you reach Ninh Binh.
It takes not over 90 minutes to arrive in Ninh Binh province. You can hire a private car or Motorbike through tourists and go straight to the destination in Ninh Binh
What to see in Ninh Binh?
Ninh Binh is a town that lies to the southeast of Hanoi and acts as a base for visitors to explore the surrounding area.100 kilometers away from Hanoi, Ninh Binh is emerging as one of the most exciting places. You are planning a trip to Ninh Binh and don't know what to see and what you should visit in Ninh Binh?.
Discovery Van Long Nature Reserve
It is not considered a nature reserve, Van Long wetland is also a place with attractive views and landscapes. It is called a "bay without waves" because when you go on a boat on the lake, you can still see the water's surface, which is the same as a giant mirror. As if Van Long was a painting, it reflected every angle of limestone mountains named Meo Cao, Mam Xoi, Hom Sach, Da Ban, Nghien, Mo Coi, Co Tien, etc..
Visit Thung Nham Bird Garden
Thung Nham Bird Garden belongs to Ninh Hai Commune, Hoa Lu District, one of the tourist attractions representing culture, spirit, diverse ecology, and stunning views. Besides being given the chance to admire the landscape of the wetland, tourists can explore the wild lifestyle of nearly 40 different types of birds, around 50 thousand birds.
Explore Trang An Grottoes Landscape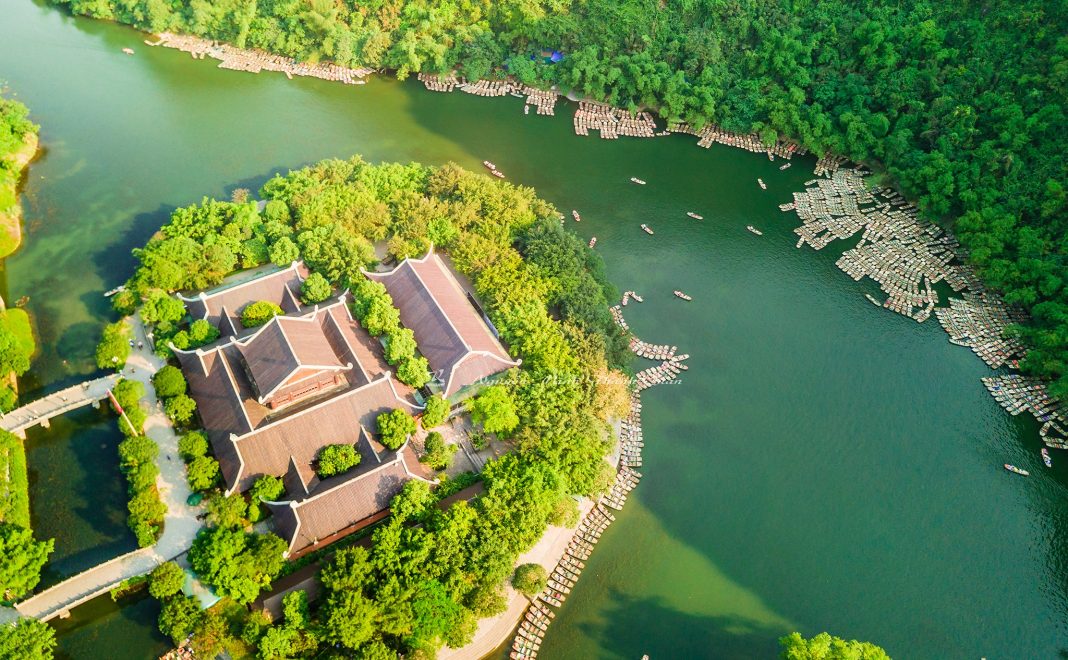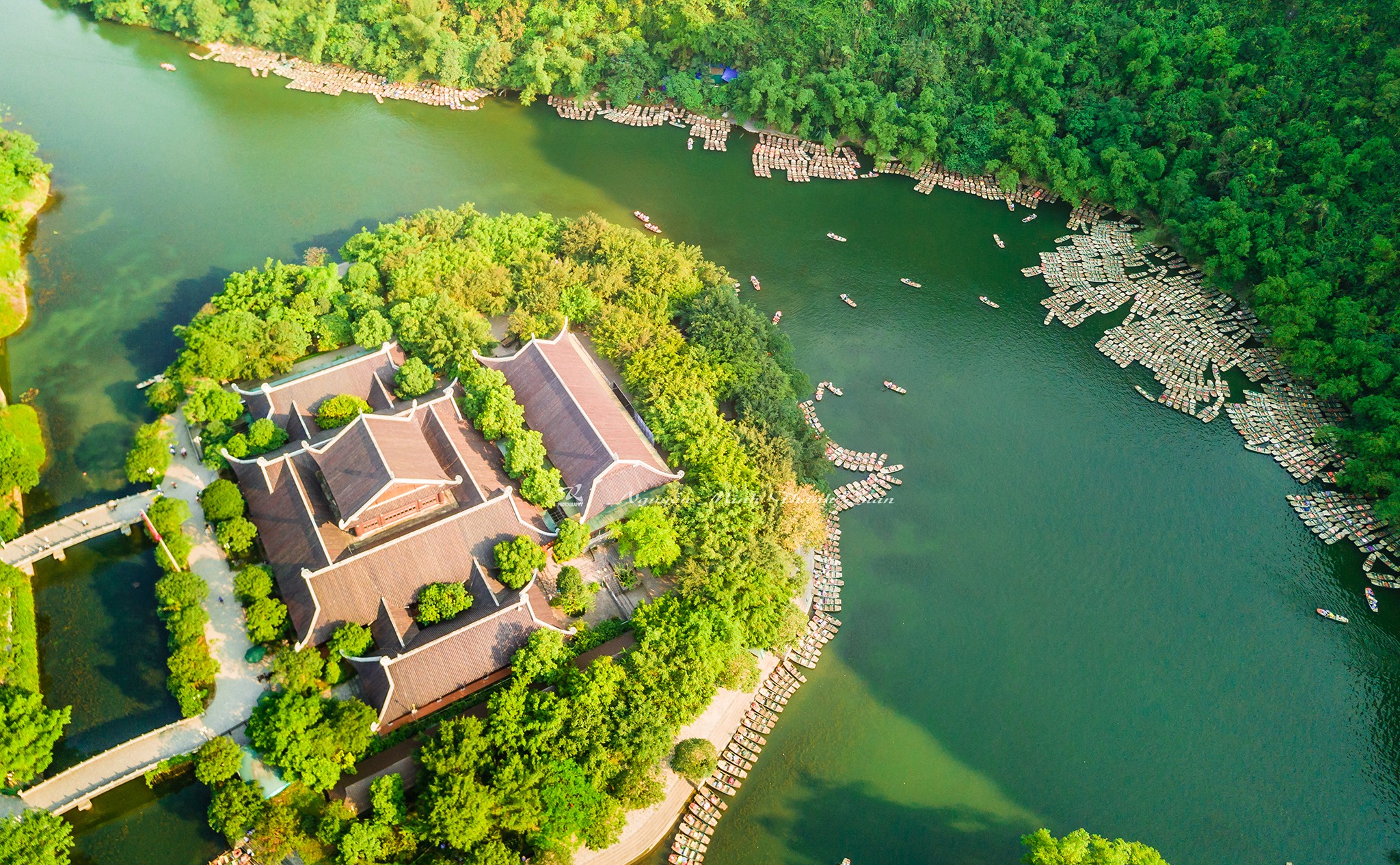 Trang An is one of the most well-known tourist attractions in Ninh Binh at the present. The primitive, wild but wonderful views are recognized by UNESCO as the natural and cultural heritage of the world. Winding rivers along limestone mountain ranges create many natural and mysterious caves.
Visit Phat Diem Stone Cathedral
The church, usually called Phat Diem Stone Church, is a religious Catholic complex with an area of 22 hectares; it is located in Phat Diem town, Kim Son Commune, Ninh Binh province. It is assessed to be one of the most wonderful churches in Vietnam by the press, considered to be the "religious city" of Vietnam
Visit Tam Coc Ninh Binh
Tam Coc, meaning "three caves" including Ca Cave, Hai Cave, and Ba Cave, three of which are created by the Ngo Dong river running through the mountains. Tam Coc is the first boat route that has been exploited in Tam Coc – Bich Dong tourism area. In the caves, the weather is very cool and there are many stalactites with different shapes.
Explore Mua Cave – Hang Mua Cave
Do you know that the name of Mua cave was originated from an old-time story when King Tran came to Hoa Lu capital, he often stopped at Mua cave so there were dancing performances by imperial maids, so people call the cave is "Mua" ( dancing), it is near Hanoi city, far from it about 90 km. The cave belongs to the cultural land of Ninh Binh. Together with Trang An ecological tourism complex, the terrain of Mua cave looks majestic with rolling mountains surrounding a whole large delta like a rampart protecting the country inside.
Visit Bai Dinh Pagoda
Bai Dinh Complex is the largest pagoda complex in Southeast Asia which covers 530 hectares of land. The whole complex consists of the original old temple for Buddhist privileges and a newly created larger temple for tourists visiting. As a spiritual complex, Bai Dinh Pagoda offers pleasant sights and gives off a peaceful feeling. Temples, shrines and pagodas are spread out over the hillside with fantastic views over the surrounding countryside.
Bich Dong Pagoda
Bich Dong Pagoda, which is 2 kilometers from Tam Coc depot, means " the emerald cave". It was named in 1773 by chancellor Nguyen Nghiem. In front of the cave is a branch of the Ngo Dong river winding around the mountain slope. There is a field opposite the cave.
Non-Nuoc Mountain
Non-Nuoc Mountain is also called Duc Thuy Mountain, located in the Northern West of Ninh Binh province, which is 70 meters in height and has a relatively flat top. Because of the location right between the confluence of the Day river and Van Sang river, the mountain gives an extremely charming mountain – river beauty for Ninh Binh. On the cliffs of the mountain, over 40 poems were carved by a historical, well-known man.
Hoa Lu Ancient Capital
Hoa Lu ancient capital is a national heritage complex of great importance and also is one of 4 noticeable, important places of Trang An international heritage complex. It has a total area of 13.87 square kilometers and has existed for over 1000 years; it is also a place storing historical monuments for many years.
Thai Vi Temple
Thai Vi Temple is on the right of the Ngo Giang river and on the left of Coi Linh mountain, which brings the perfect harmony for thousands of years and creates Tam Coc as today, which is also known as " shallow Ha Long  Bay". In this temple, we not only can feel the poetic beauty of mountains and rivers but also admire the fine architectural works which are typical of the attractive, original identity and made by ancient people.
Things and What To Do in Ninh Binh?
There are not many set 'sights' in the town of Ninh Binh itself, but this is a great place to visit if you want to get out and about and spend time in some of the Best Things To Do in Ninh Binh Vietnam.
Cuc Phuong National Park Trekking Tour
The best time to visit Cuc Phuong is from December to April when the weather is cool and the rainforest goes through. Please do not travel on rainy days because the wet weather produces many mosquitoes.
This is one of the most popular options for busy travelers. Join us for 1 day in Cuc Phuong National Park with us to visit the Endangered Primate Rescue Centre, visit the Turtle Conservation program and botanical garden, mountainous trekking, or trek over flat paths.
Trang An Boat Tour
For more than 3 hours, you will get on a rowing boat from the pier and then go through Hang Dia Linh, Hang Toi, Hang Sang, and Hang Nau Ruou. You will be dropped off near Tran temple to climb nearly 500 stone steps to Tran Temple. After that, you continue on your boat through Hang Sinh, Hang Si, Ba Giot, Hang Seo, Hang Son Duong and then visit PhuKhong, Bao Hieu temple. Next, go through Hang Khong, Hang Tran, and Hang Quy Hau by rowing the boat then return and the trip ends.                
Tam Coc Boat Trip
Starting your day by exploring limestone caves during a boat tour on the Tam Coc river is one of the most unforgettable experiences for you. In Tam Coc, people arrange and manage all boats very well. There are about 1500 boats lying on the Ngo river at Tam Coc wharf.
Ninh Binh Cycling Tour at Tam Coc
Tam Coc Cycling Tour to explore every small road leading to local houses, meeting new people and talking to them. Try riding a motorbike around Tam Coc Village once in your life to feel the fresh air in a beautiful village
Climb up to Mua Cave
There are two things you need to know about Hang Mua:
Firstly, Hang Mua is a really impressive destination because of its temple on the top of the hill.
Secondly, in reality, if you put in your effort to climb up to the Mua mountain through 500 steps then a panoramic 360° view of Tam Coc valley never disappoints! This is the only place for taking a wonderful view of Tam Coc village. "
What to eat in Ninh Binh?
Ninh Binh is not only famous for its beauty with many tourist attractions. If you have chances to visit Ninh Binh, And don't know what to eat in Ninh Binh? Let's note down those below dishes of special and delicious food. The famous food here smells and tastes with the flavor of limestone mountains where locals feed animals. We would like to introduce you to the 6 best traditional dishes in Ninh Binh.
Rice crust ( Com Chay)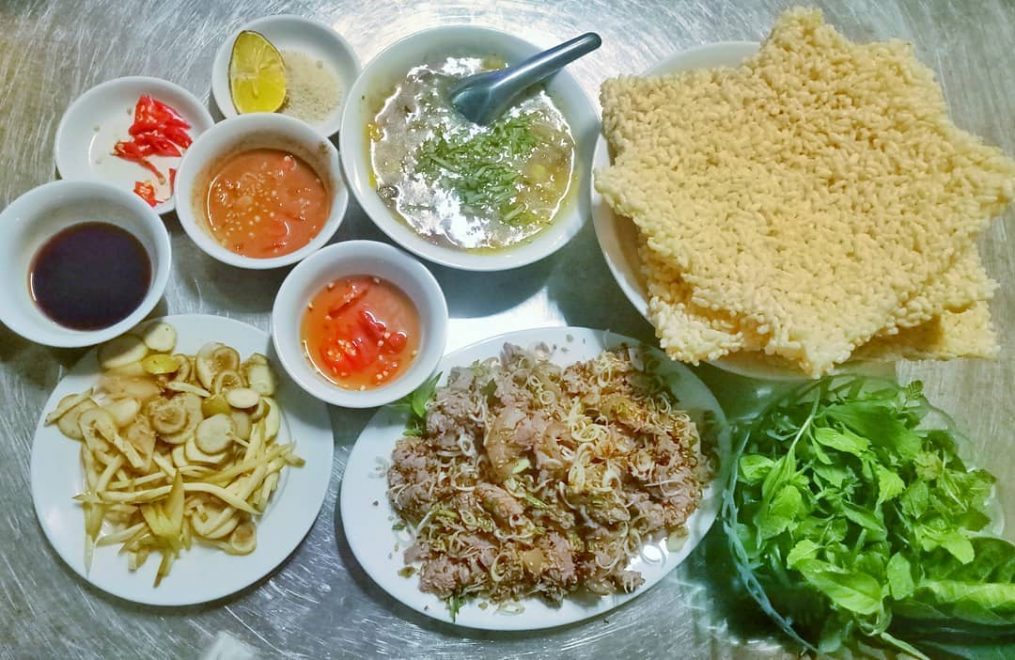 It is one of the most well-known specialties of Ninh Binh, which is significantly different from the one from other regions, particularly in the sauce. The scorched rice has light yellow, even rice seed, crispy, greasy, but tastes very yummy.
Pisodonophis Boro Spring Roll
In Ninh Binh, there are many good types of food; however, Pisodonophis boro spring roll in Kim Son is the best.
It has the savory and tasty flavor of roasted sticky rice, the sourness of vinegar together with spiciness of ginger, garlic, chilly, and citronella.
Its taste is very typical and once you have it, you will remember it forever.
Field Crabs Roasted with Wild Betel Leaves
Rice Field crabs are roasted with wild betel leaves, a popular and countryside type of food in Ninh Binh and also characteristic of villages in Vietnam, also, this food is also recommended for tourists when they visit the ancient capital.
It is because the food is not made from raised crabs that make this specialty special and distinctive, which is a crisp flavor of rice field crabs mixed with the typical one of wild betel leaves. It tastes the best when it is eaten with hot rice.
Kim Son raw Nhech fish salad
Nhech fish salad (or cá nhệch) is a special dish in Ninh Binh but you have to try this salad in Kim Son where it is considered the best place to enjoy it. Nhech fish have curved shapes of eels but are larger and longer. Nhech has a lot of meat, less bone, and lots of protein.
In order to make a delicious salad and attractive curves, a meticulous process and sifting are implemented by the chef. Nhech fish by rubbing with salt, or we can use ash, bamboo leaves, leaf or leaf imitation, slime wash off, later bled before surgery and for a few stages to make the spicy fish meat tastier.
The first bite of Nhech salad will bring you the attractive aroma of roasted sticky rice, light sour of vinegar interjected to the spice of ginger, garlic, pepper, chili, and lemongrass. You will never forget this taste.
Boiled Mountain Snails
Boiled mountain snails are extremely well-known in Ninh Binh and it has a natural-sweet taste because snails here eat grass, herbs, and some other previous medicine plants.
Therefore, mountain snails are cooked into different ranges of foods including snails fried with tamarind, garlic or simply just roasted mountain snails, etc..; however, the most popular and preferable of which is still boiled mountain snails.
In fact, guests can have it with lemon–chili sauce or have it only to feel its natural – sweet taste.
Xoi Trung Kien (sticky rice with ants eggs)
Not all kinds of ant eggs are edible. It must be eggs of black ants that build a nest on the tree. The ant egg season begins from March of the lunar calendar and this period lasts over a month.
Processing ant eggs is very sophisticated. These tiny eggs are cleaned gently with warm water and mixed with seasonings, dried onion, and fried with fat until the eggs spread a nice aroma.
The eggs are then put on a banana leaf so the nice smell of eggs is mixed with the smell of the leaf. This dish goes with steamed sticky rice and fried onions.
Hoa Lu Half-Done Goat Meat
Residents in Hoa Lu process goat meat into different foods consisting of half-done goat meat, goat – spring roll, toasted goat meat, goat blood pudding, steamed goat meat, etc…; however, half-done goat meat is still the most delicious one. Its yummy taste lies on the secret to proceed with goat meat very carefully and cleverly and on special spices which are types of leaves, fruits, together with half-done goat meat and especially ginger soy sauce.
Nem Chua Yen Mac ( Yen Mac Fermented Pork Roll)
Tourists can try a very distinctive taste of Yen Mac Fermented Pork Roll in Ninh Binh; it is made from lean meat without fat, boiled rind, and some other spices like monosodium glutamate, salt, etc…
After that, it is wrapped by guava leaves to bring a typical fragrant taste and banana leaves to create an attractive rind. This food is usually made with lemon–garlic sauce.
Bun moc (Rice noodle with "moc" soup)
If you visit Phat Diem Cathedral, don't miss to try "Bun moc". "Moc" is made from pork, mushroom, green onion, lemongrass, chili). With the good cooking skills of locals here, "Bun moc" has an amazing flavor, you won't have a second chance to try this dish everywhere else besides eating here.
What to Drink in Ninh Binh?
Bia Hoi Ninh Binh
Bia hoi or 'fresh beer' is so popular in Ninh Binh Vietnam — for locals and visitors alike. There's some big hoi stands along the river, where you can sample local, homemade beer which is well worth tasting.
The most famous place in Ninh Binh City Center offers "Bia Hoi", fresh beer in Ho May Xay, where you can join the locals enjoying meals of fried goat, Nem Yen Mac…
Another option for a cold beer after a day's adventuring includes Chookies Beer Garden in Tam Coc and the rustic fresh beer places near the riverside in Ninh Binh. Drinking "Bia Hoi" is a great way to start the evening!
Ruou Can Nho Quan (wine drunk out of a jar through pipes)
Ruou Can is inside a jar, the size of the jar will depend on your hobby. To get a good bottle of wine, it must undergo several stages: from selecting ingredients to the processing and especially to calculating the appropriate time so that it is just in time. The main ingredient depends on the region, it may be corn, rice, or cassava, but the best is sticky rice. Ruou Can Nho Quan is made from sticky rice. The longer the wine is kept, the better taste it has; each material has its own taste. Drinking Ruou Can with Com Chay Ninh Binh (Ninh Binh Rice Crust), will be the best combination. For more information and the tour in Ninh Binh, let contact Elena Travel Agency now!
Book Tour
Tell us more about your trip preferences!
We organize tours and car transfer services around Vietnam. This form helps us to understand your wants and needs, so we can create a personalized travel itinerary that suits your traveling style.